Taking the leap from driving a dump truck to owning and operating your own dump truck business is a huge jump but you can make a huge return on your investment.
Even though you have to plan for additional dump truck business expenses like rent or lease payments, loan payments, taxes, utilities, fuel, insurance, and maintenance repairs, you can tackle all of these expenses if you make enough profit from your business.
From documentation to fleet expansion, your dump truck business never faces a dull moment. Want to get ahead? Here are some tips if you want to be a pro at managing your dump truck business.
Tip #1: Nail Down the Basics
Depending on your business, you will need different licenses and certifications. Get your paperwork in order before diving in.
Start by focusing on:
Securing Licenses and Certifications
Setting Up Insurance Through a Reputable Vendor
Obtaining Proper Tax Identification for your Business
For your driver's license, you will need at least a Class B Commercial Driver's License in order to drive any truck that's less than 65 feet in length, like a tri-axle dump truck.
If you to drive anything that's longer than 65 feet, like a big rig truck, you'll need to get a Class A CDL.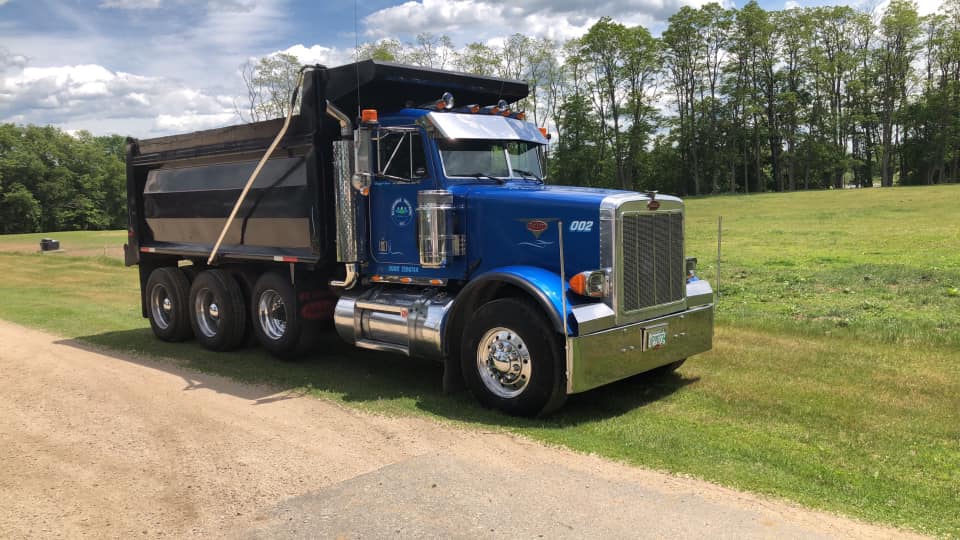 "If you want to drive a tri-axle, your drivers will need a Class B Commercial Driver's License."
Things like safety and insurance require documentation. Depending on the state, you need different levels of authority. Always check with your state and federal regulations first.
One best practice is to apply and receive your federal DOT number and authority.
Federal DOT allows you and your customers to track your company's safety records and compliance
Motor Carrier Authority, which identifies the kind of trucking business you operate and other details like which materials you're permitted to haul.
You could get both numbers by registering your company to the Federal Motor Carrier Safety Administration (FMCSA).
Tip #2: Leverage Technology
Leveraging technology can streamline your processes, making it easier for you to grow your business. With technology, you can:
Use GPS Tracking
Scale your fleet
Automate invoicing
Keep tabs on hired third party trucking. You rely on outside party truckers to get the work done. Sometimes you don't always have the visibility you need to verify you get what you're paying for. Tracking routes means you can easily understand where bottlenecks are and identify solutions in real-time.
Once you've established yourself as a player in the field, you can easily expand your independently owned business into a fleet. With TRUX, you can find reliable and fully compliant drivers to take on your workload. TRUX takes the guesswork out of finding qualified drivers and haulers. You can trust that each trucker you hire will get your work done.
You can easily receive invoices. Invoices on TRUX are sent weekly for the previous work week and are organized by day and job. The benefit of having one easy and understandable payment is huge since it saves you time piecing together an invoice for one project.
Tip #3: Get Onboard a Great Platform
Platforms like TRUX enable you to digitize your payments, automate driver punch-in and punch-out invoicing, send notifications to drivers, and minimize the need for dealing with paperwork.
TRUX Punch-In and -Out Function
You'll also have the opportunity to manage logistics in real-time with construction management software that brings truckers, contractors and materials producers together.